Koala Glossy Photo Paper Review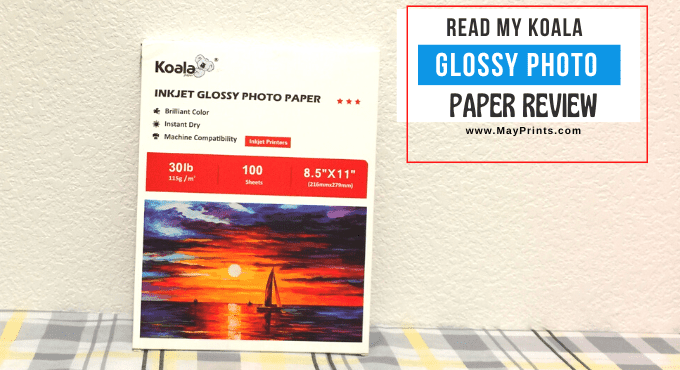 Hello everyone,
In today's post, I am writing a Koala glossy photo paper review. I came across this printing paper when I was searching for more photo paper. The one I used to use is quite thick and it is kind of hard to use for my job purposes.
During my search for printing paper, I found some Pros and Cons about the Koala glossy photo paper. If you are interested in this brand of paper I suggest you continue reading this post.
Where To Buy Koala Glossy Photo Paper?
If you are asking where you can get this printing paper, I believe you can currently get it online from third-party sellers. I don't think they are offering this brand locally.
You can get it through third-party sellers online from places like Amazon, eBay, and Walmart. You can also get it by clicking here. I ordered mine to test it out from amazon. In terms of price, it is fine with me. Photo paper usually costs more money than your average printing paper.
Product Description
I will tell you a little bit about this glossy photo paper here.
The paper size is 8.50″ X 11.00″. It is exactly the normal standard size made for the US.
It comes with 100 sheets in a pack.
The paper has a glossy smooth finish.
It is 30 pounds with 115 gsm.
Fast Dry, No Smudging, No Smearing, and Scratch Resistant.

This type of paper is great for making custom chip bags, and flyers, printing detailed graphics, and sharp text newsletters, reports, or special presentations containing photos or graphics.
Koala Glossy Photo Paper Review
When I first touched this paper I was like man this paper is so thin and lightweight. It is almost like your average printing paper that we use for printing documents. I didn't like it at all. But when I used it to print out my projects the results were awesome. It has a bright and glossy look.
I mostly use this type of paper to make chip bags. Having very thick paper to make chip bags is not a good choice. It will be harder to assemble them and the printed design might crack a little bit. If you use a paper crimper on them, it will be harder to do so. What I mean is, it is hard to get into the crimper and the result is not as optimized.
If the 30 pounds are too thin for you then give the 36 pounds (135gsm) a try. It is a little thicker and it is also great for printing brochure flyers. You can click here to read more about it.
I might consider buying the 36 pounds at a later time to test it out. I was going to buy it all together when I was purchasing the 30 pound ones but I was afraid my printer isn't compatible. After all, it is the first time I was using it. I didn't want to waste more money if it didn't work with my printer. I guess I was trying to cut down on some expenses. LOL…….
If you have a laser printer then try this printing paper instead by clicking here.
I give this photo printing paper a rating of 5 with 5 being the highest. Other than my rating, this glossy paper has an average rating of 4.6 with over 3000+ who have given it a rating. So you can see this paper is pretty popular among others.
✅

Pros:
It is great for inkjet printers.
The ink dries super fast on this paper.
No problems with smearing, or rubbing off ink.
❌

Cons:
It only works with dye ink, so if you have all pigment inks for your printer, you shouldn't buy this paper.
There are a lot of people who bought this paper who are having either a smear, rubbed off, or never drying ink with their printout. The reason for that is some other brands of inkjet printers are not compatible with this paper. That is because those printers are using pigment black ink instead of dye ink.
To be honest, I was hesitant to buy this printing paper because my printer also uses pigment black ink and the rest is dye color ink and I was worried about having the above problems.
I am glad that I have made the purchase and given it a chance to test out. You can see the below image from the result of my printed-out football chip bag template using this photo glossy paper.
The image didn't show any glossy look but it does have the glossy look. I deliberately did not show it because I didn't like the light having a reflection on it.
Oh right, I have a Canon brand printer. Let me check the model number. I have had this printer for a while now and the model number is PIXMA TS8220. You actually can still get them here or you can read more about them.