Trending
How To Make Football Baby Shower Chip Bag Favors?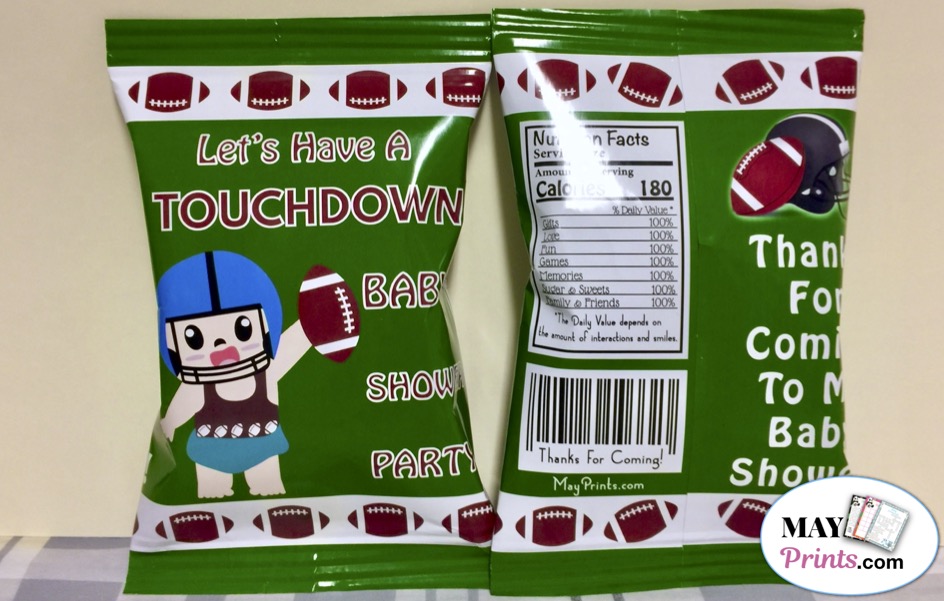 Hi guys, in this post I will be showing you how to make football baby shower chip bag favors. This will be great for a football themed baby shower party.
By the way, if you need football themed baby shower games to entertain your guests then click here for a baby boy and here for a baby girl. They are super cute.
Designing Your Own Football Themed Chip Bag
If you have time and would like to make your style of chip bag wrapper design, then you should follow the below video tutorial. The video is about 14 to 15 minutes long. It requires you to have Microsoft Word on your computer to be able to follow the tutorial. To me, it is pretty easy to follow along.
Even though the video is showing a Rugrats chip bag design and not a football design, the concept of making it is still the same. All you have to do is find some football art and change its background colors to match it.
If you don't want to take the time to learn how to make it yourself, then you can also get them here to buy the football chip bag template. Sometimes it does take several tries to get the result you want by printing out the printouts and making them if you are designing them yourself.
That's how I wasted a lot of printing paper and ink to get the optimal result. LOL……….
Items You Will Need:
Here are the following items you will need to complete this baby shower chip bag.
Double sided adhesive tape. The one I am using is iCraft SuperTape 1/4″ in size. You can get it here if you like. You can use any brand of double sided adhesive tape. It doesn't have to be the kind I am using. The one I am using only has 6 yards per roll. I am pretty sure you will need more than that if you are planning to make a whole batch. You can also use hot glue that has a strong bond.
A pair of scissors to cut out the double sided tape.
A small bag of chips in any flavor you like that is 1 ounce and under or other items like cookies or pretzels. If you get a bag of chips that is over 1 oz then it might not fit. You can buy some by clicking here.
Football baby shower chip bag template – You can click here to get it if you want to save time and don't want to make your own.
Printing paper – The printing paper that I am using to print the football baby shower chip bag template is Koala Glossy Photo Paper. You can buy this from Amazon. It is possible to use ordinary printing paper but it won't look very nice. I also suggest you use double sided tape instead of glue if you are using ordinary printing paper.
Paper Crimper – This is used to make the chip bag look more realistic. It adds some patterns like straight lines or waves to the edge of the chip bag. Of course, you don't have to use it. You can get it here if you are interested in getting one. And that is the one I am using in the below video.
Assembling The Football Chip Bag Video
I know some of you like learning from watching rather than reading the instructions. I am the same way. I seriously like watching tutorials more than reading. I got a lot clearer picture in my head than from reading. So I decided to create this video tutorial. I hope it is helpful to you.
Instructions:
Step 1 – If your printout has a white border around the football chip bag template, then you can either use a trimmer or scissors to cut out all two sides (top and bottom) or three sides (top, bottom, and left side) with the printed side facing you.
That is because some printers don't print out the whole page and leave a white border around it. It is up to you to either cut it or not. For the demonstration in the video, my printout has no white borders so I don't have to trim or cut them out.
Step 2 – Place the printable chip bag template in landscape on the table with the blank or white part facing the front.
Step 3 – Put some double sided tape on the top (about 9.5″ to 10″ long"), right (about 8″ long"), and bottom (about 9.5″ to 10″ long") parts.
Step 4 – Next place the chip bag in the middle and peel off the red liner from the right side if you have one for your double sided tape.
Step 5 – Use both hands to align them together, so that both left and right sides can stick together with the double sided tape.
Step 6 – Peel off the red liner from the double sided tape from the top part. Align both sides and press them to make them stick together with the double side tape.
Step 7 – Turn the bottom side up and do the same thing as Step 6. ** If you can't align both sides correctly and have a little white part showing then you can use a pair of scissors to cut them off for Steps 6 and 7. **
Optional Step 8 – Place either the top or bottom part of the chip bag into the paper crimper and turn the handle to make some patterns on the chip bag. The pattern is to make it look more like a chip bag.
Optional Step 9 – Just do the same thing as Step 8 for the other side of the chip bag with the paper crimper.
So this is how you assemble the chip bag. It is super cute, right? Making them is not very hard but it's very time consuming to make a whole batch. I think it is still worth the trouble, besides making it is also very fun.
If you like this football baby shower chip bag design, please share it. Thanks for reading! Wishing You To Have a Happy Baby Shower Party!