Elephant Baby Shower Diaper Cake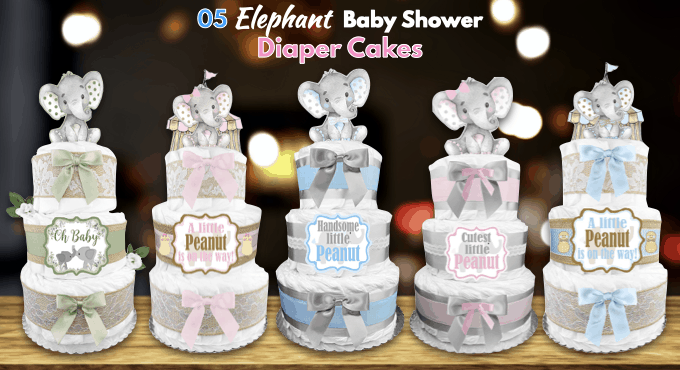 Today, I am going to share with you five different styles of elephant baby shower diaper cakes that I have found online. They look super cute.
These will match with your elephant baby shower theme nicely. All five of these diaper cakes have three layers with an elephant as a topping.
Will you be getting a diaper cake for your baby shower or are you getting it for someone else as a gift? Either way, it is a very good idea.
If you are getting it for yourself, it can be used as a centerpiece for decorations and if you are getting for someone else then she will definitely very much appreciate it.
I wish I had a diaper cake when I was having my baby shower. It looks so nice on the eyes and is very practical at the same time. My favorite one is the one that has a tent as the topper.
Just be sure to buy one that doesn't have tape or glue that sticks the diapers all together and they can't be used for your little one. The whole idea of a diaper cake is that you can use the diapers later on on your baby and not become wasteful.
By the way, you can find a matching pink elephant theme baby shower game by clicking here or if you want to make your own baby shower party favors click here.
Pink Elephant Baby Shower Diaper Cake
There are two styles of elephant diaper cakes in pink color. Both of them are in three layers and it doesn't require you to assemble it yourself.
This will definitely save you a lot of time but on the other hand the price is a lot higher. That is most likely due to the price of diapers. After all, it does include the diapers.
These pink and gray colored diaper cakes don't really have that many differences. The differences I see are the laces and ribbons, and the elephant topping has a tent. You can take a closer look at their differences if you like.
A Little Peanut Is On The/Her Way!
A little peanut is on the way, I find this phrase is so adorable. This design reminds me of the Disney movie called "Dumbo". That is because it has a tent as the topping. LOL…… There is a total of 62 diapers in this cake. The diaper brand is Parents choice in the size of 1 for a baby who weighs between 8 to 14 pounds.
By the way, the baby girl elephant with the tent and the sign or phrase is made with card stock and the elephant is not a plush. The card stock elephant measurement for the topper is about 4 inches X 5 inches.
Cutest Little Peanut
Here is another diaper cake design for a baby girl. The phrase is written Cutest Little Peanut. This one is just as cute as the above one.
In terms of price they cost the same from the last time I checked. Both designs have the same high average ratings.
Which one will you be choosing? Everything is the same from the above cake except the topper and the ribbons are not. The measurement for the elephant topper is 4 inches X 3 inches. Oh right, the measurements for both centerpieces for girls are 10 inches X 10 inches X 20 inches.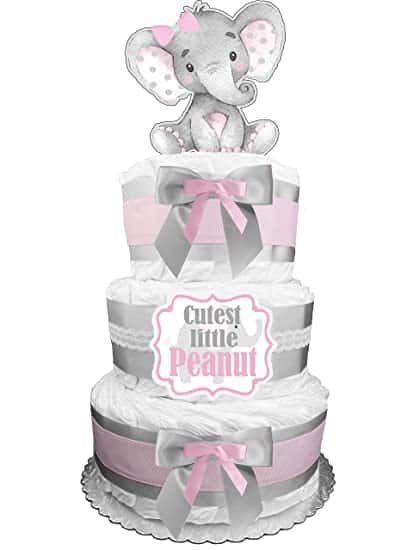 Blue Elephant Baby Shower Diaper Cake
Here are two elephant diaper cakes for a baby boy. If you are buying it as a guest, the below two items will be a great fit since it comes with a beautiful tulle.
Handsome Little Peanut
Yeah, all little babies are handsome. I have two of them of my own. They were super handsome when they were infants.
This blue diaper cake doesn't require assembly and the cake is about 10 inches X 10 inches X 20 inches. It uses the Parents Choice diaper brand in the size of 1.
It has a total of about 62 diapers and it should last you about 2 weeks of use. You can never have too many diapers. They will be gone in no time.
A Little Peanut Is On His Way!
This one is pretty much like the first one above except some of the colors are blue for the ribbons, elephant and tent topper and the sign.
Please do note, this one has 12 less diapers than the girl's design. So it has a total of 50 diapers in a size of one with the same diaper brand of Parents Choice.
DIY Elephant Diaper Cake Kit
If you have the time you can make your own diaper cake with this DIY diaper cake kit to show off your creativity. This kit doesn't include diapers so you would have to buy your own diapers separately. By making one on your own the cost will be less.
You will need other equipment such as scissors to finish the cake. It comes with a digital 18 page pdf file that includes a video tutorial to complete the cake. To learn more about it click on the below big image. You can also find the baby boy kit by clicking here.
After you have completed this kit you will have a diaper cake in the size of about 8.5 inches in diameter and 14 inches tall. This kit recommends you to use Pampers Swaddlers in size 2.
Neutral Baby Diaper Cake
If you want you can get a neutral color diaper cake. This one is a good idea if you are planning to have a baby gender revealing game in your party. This doesn't tell you the baby's gender if you are getting a neutral one for decorating or a centerpiece.
Thanks for reading. I hope this article was helpful to you and Hope you will have a wonderful baby shower party.