Silhouette Cameo 4 Reviews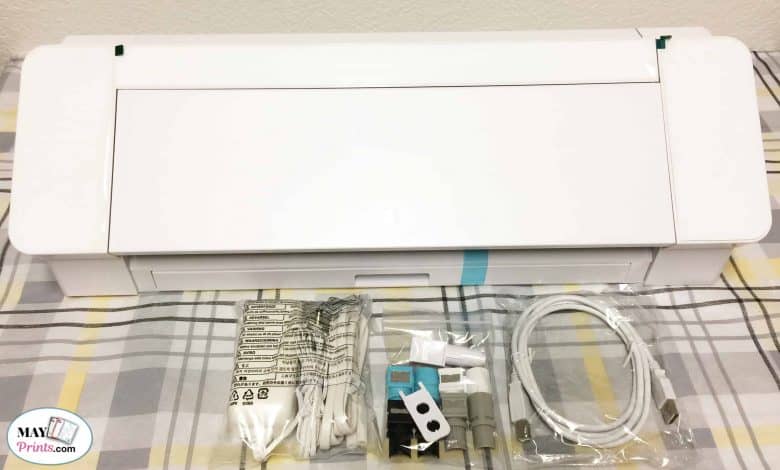 If you are looking to read some Silhouette Cameo 4 reviews then this article may be helpful to you. I will tell you the PROS and CONS I have experienced from owning my own Cameo 4 machine. I have put quite some time into learning and testing out this machine.
To be honest with you this is completely brand new to me. So I had to learn everything from scratch. The reason why I got the Cameo 4 is because I am kind of tired of cutting my paper projects manually.
I was going to get the Cricut maker but I found out it has limitations on cutting projects so I decided to go with the Cameo 4. If you are wondering what the limitation was that made me go for the Cameo 4 then I will tell you.
I don't like that the Cricut maker has a cutting size of 6.75″ x 9.25″ for its machines and it won't allow you to cut bigger than the size I just mentioned. I mean I am using a US Letter paper size of 8.50 X 11.50, and take a look at how much paper space I would waste every time if I do a project with the Cricut maker. Please note I am only referring to the print and cut option. So far I am only working with print and cut projects.
Unboxing Silhouette Cameo 4 Video
If you would like you can watch the following video where I am unboxing the Cameo 4. Sometimes it is better to see the actual product from the video than just the photo.
Features or What Can a Silhouette Cameo 4 Do?
There are a lot of crafty projects that you can do with the Cameo 4. For example, you can use it to print and cut. This is basically where you print out your art and let the cameo 4 cut the art out for you so that you don't have to cut it by your hand. There are a lot of materials you can use this machine to cut with.  I basically use it to cut card stock papers.
~ Built-In Roll Feeder
This is great to have if you are using materials like vinyl and heat transfer.  It makes loading and cutting the material so much easier. It's most likely I won't be using this roller for the time being unless I start making some t-shirts for my sons.
Here are the roll feeder settings that you might like to know about.
Material Width Settings: 9 inch, 12 inch

Maximum Roll Diameter: 4.5 inches

Maximum Material Core Size: 3 inch
~ Built In Crosscutter
This allows you to conveniently cut your materials directly from the roller, like vinyl and heat transfer. This cutter is located on the back of the machine. All you have to do is slide the slider to the other side to cut your materials. Pretty simple enough right? You may have to unlock the latch first before you can cut.
~ Bluetooth 
This machine gives you two options to connect to your computer be it either a Mac or Windows. It is your choice to make either to use the included usb cable or the bluetooth feature. I have tried both for my Mac and it works well.
There is an advantage to using the bluetooth connected to your computer. It allows you to place the Cameo 4 a lot farther from your computer with no problems. If you are using the usb cable it requires it to be a lot closer by your computer.
It pretty much depends on the length of the cable and the cable is usually not that long. So having a bluetooth feature added is an awesome idea and it makes it a lot more convenient and also gives you more flexibility.
~Automatic Tool Detection
This machine can hold dual cutting blades. It will automatically know which blade to use to cut with the included Silhouette Studio software. Of course you would have to download the software online to be able to use it. It doesn't come in any physical form like a CD or DVD. There are a total of 3 other blades that you can buy separately. Please click here to jump ahead to read more about it at the accessories section.
Is The

Silhouette Cameo 4

Worth It?
Well, I have to answer this question with an answer of it depends. The reason I am saying this is because if you own a Windows computer then it is worth the money, but if you have a Mac computer then it is not worth so much.
I guess it is acceptable since I decided not to ask for a refund for my Cameo 4. That is also because I got it as a birthday gift from my hubby and I don't want to make him feel upset.
The software for the Mac has a lot of issues and I do use my Mac. I don't use my Windows anymore and I am not going test it out on it. I have wasted a lot of time on my Mac already. What I think is the software from Silhouette is designed for a Windows operation but not for the Mac.
These issues from the Mac operating have been out for a very long time now and the developers aren't fixing it. It is kind of sad.
I am serious I have tried installing and uninstalling many Silhouette Studio versions, from the latest to the previous versions and it continues to have the same issues that I am trying to fix.
Oh right I forgot to tell you the issues that I am facing with their software for the Mac. The interface for the software is blurry. It is like you are watching a video from Youtube with a 480px quality.
I can still tolerate this but when I tried to print out a project from their software the quality for the print out looks so pale and doesn't look like the one on the computer. So I decided to use a different software to print the same thing out from my Mac and everything looks fine.
If you are thinking of using the same working software to make the print out then you are wrong. The Cameo 4 machine doesn't work with other software.
After many hours of installing and uninstalling/deleting many versions of Silhouette Studio I find version 4.4.247 is acceptable. The interface is still fuzzy but the print out looks so much better, but not the best and that is why my answer is it depends.
I am hoping the developers will fix these issues in the future. I am pretty sure there are a lot of unhappy Mac users for this software.
By the way, I have tested both macOS Catalina and macOS Monterey and they have the same issues. Yeah, I was hoping the issues would be fixed for upgrading my IOS for my Mac but it didn't.
Silhouette Cameo 4 For Sale or Where To Buy it?
Actually, you can buy the Cameo 4 locally or online websites like amazon.com, walmart.com. Major retailers usually carry this item.
If you don't want to buy it online then you can try buying it locally from places like, Walmart, Michaels, Joann, Target, Best Buy, Hobby Lobby and a lot of other places. Sometimes, Costco even carries it.
Silhouette Cameo 4 Reviews
There are a lot of people who bought this machine and are very happy with their purchase. The current average rating is above 4.5 and 5 is the highest.
As for my personal rating I guess I will give it a 4 due to the fact that the software has issues. I really do want to use the latest silhouette studio but instead I have to downgrade for it to work with my Mac.
Another thing I would like to mention is, if I want more features for the software I would have to upgrade it. That is really not so cool at all. I really want to export my works into pdf and svg formats but I can't do that without having to upgrade the software.
Another thing to note is, be sure you own a desktop or laptop, either a Mac or Windows. I mention that because the software doesn't work with iphone and ipad. There was a user ending up having to buy a laptop to be able to use it.
✅ Pros:
It has more printing space capacity than the Cricut maker.
Fast setup and easy to use.
Can cut without using a mat.
❌ Cons:
It doesn't work with either ipad or iphone at the moment.
You might need some time to learn how to use the software.
Some received used machines.
What's In The Box?
This machine doesn't include that much stuff. It includes the following items.
Cameo 4 machine
1 AutoBlade – The blade can cut up to 3mm thickness materials.
One 12 X 12 inches cutting mat
Power cable & USB cable
Adapters for standard blade, premium blade, deep-cut blade, 2mm Kraft Blade, and Silhouette sketch pens
Silhouette Studio® software (download) – It only includes the Basic Free Edition. You have to pay extra to upgrade to the premium Editions like Designer Edition ($49.99), Designer Edition Plus($74.99) and the Business Edition ($99.99) to get more features.
100 exclusive designs (download)
1-month Silhouette Design Store subscription (available with tool registration)
Optional Accessories
You can get the following accessories for your crafty projects if you need them. The machine has three additional cutting tools. Each one of these cutting tools can cut different materials.
Rotary Blade – This blade allows you to cut a variety of special materials like leather, wool, cotton fabric and others.
Kraft Blade – The 3mm Kraft Blade for the Cameo 4 allows you to cut specialty craft materials, such as acetate, craft foam, burlap, and leather.
Punch Tool – With the Punch Tool for Cameo 4, you can have the Cameo 4 create weeding points for your vinyl and heat transfer projects.
Dimensions & Warranty
This machine has a 1 year warranty for labor and parts. It is limited to USA and Canada only. The dimensions are 22.5 inches x 7.5 inches x 6.75 inches.
It weighs about 10 pounds and 6.4 ounces. It is not that heavy. Even I can put it up to move it to a different location if I wanted to.
Is It Compatible With iPad?
No, while writing this article it is not compatible with ipad, Chromebook, and other tablet and mobile devices. Who knows, maybe it will be available in the future but I am not counting on it. I just wish they would fix the issues on the Mac.
Dust Cover
I know some of you would like to get a dust cover for your Cameo 4 to protect it from collecting dust when it is not in use. I might consider getting one as well. During my search I have found three available colors are compatible.
Those color options are black, pink and blue. All three colors look pretty darn nice. I might just go with the black color. Click here for the black color and click here for the pink color one to find out more about it. Click below image for the blue color dust cover.
Does Silhouette Cameo 4 Work With Mac?
The short answer is yes but not as good as the Windows version. Click here to jump back to the top to read more about it.
Seriously, the developers need to work more on the Mac version since this machine has been out in the market for a while.
If they can get the print out quality fixed that will be great for the latest software. I know the latest version is more accurate on the cutting.
What Blade Comes With Silhouette Cameo 4?
The Cameo 4 only comes with 1 blade and it is the AutoBlade. If you need other blades then you would have to buy them separately as an accessory. The AutoBlade is good to cut vinyl, fabric, card stock and more materials.
Can This Be Used For Cutting Wood Material?
According to my research, it is a yes. Some of the users use this machine to cut some thin wood material although I didn't give it a try.