Football Themed Baby Shower Ideas
Football Themed Baby Shower Party Decorations, Games and Gender Reveal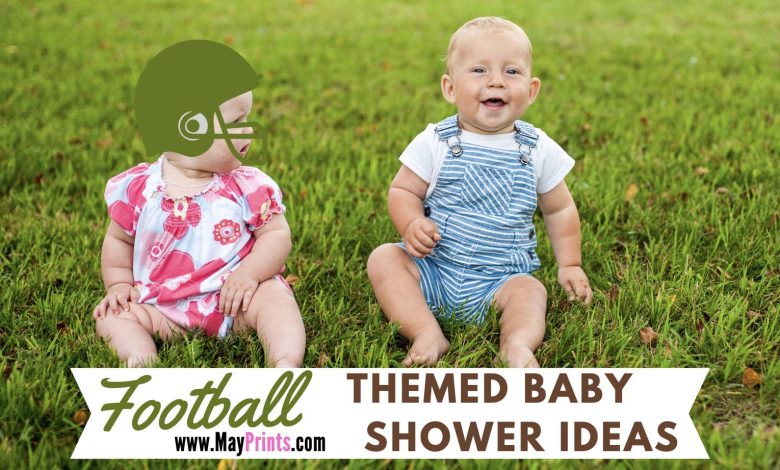 Hey football fan mommy-to-be, are you searching for some football themed baby shower ideas? This article will certainly give you some good ideas for your baby shower party. It is a little frustrating not knowing what is available for preparation for the party.
I know exactly how you must be feeling. When I was having my first child, I wasn't planning to have one at all but luckily I have a mother-in-law who arranged one for me.
During my pregnancies, I felt so horrible. It felt like it took forever to get through my pregnancy. Seriously, I was counting every day to pass on the calendar. I weighed 90-something pounds during my first pregnancy. Yes, I lost a lot of weight due to throwing up a lot, and couldn't keep anything down in my belly.
My last trimester was not any better either. I had a very bad experience. So as you can see I wasn't in any mood to prepare for a baby shower party at all. All I wished was for my pregnancy to be done already. LOL…..
I did have a very nice baby shower party though. It's all thanks to my mother-in-law who has given me a chance to create some very nice memories.
Football Baby Shower Games
When having a baby shower party you can't leave out the game part. You should try every possible way to keep your guests entertained at your party. You don't want your guests yawning at your party, right? Here are some game ideas themed on football.
1. 10 Printable Baby Shower Games For Boy
These digital football baby shower games look pretty good. It is excellent for a baby boy's baby shower party. These games come with 10 games that you can print out on your home printer or you can take to places like FedEx, Kinkos, Office Depot, Staples, Walgreens, or other places if you don't have a color printer.
2. 10 Printable Baby Shower Games For Girls
This design is for a baby girl's baby shower party. It also comes with 10 printable games. You can select to print a specific game from those ten games and of course, you can print them all out. All ten of them are very fun to play.
3. Football Baby Shower Game For Gender Reveal
Are you planning to reveal your baby's gender to your family and friends at your baby shower party? If you do then the below game is a fun way to do so. All you have to do is let your guests play this maze game and they will find out your baby's gender.
4. Football Baby Shower Diaper Raffle Sign and Tickets
Having a diaper raffle game is a great way to collect more diapers and baby wipes. As you know diapers are super expensive. You should get as many as possible.
You can never have enough of this because your baby will need a lot of these. One day you will need to use several of these. Before you know it, you will need to buy more.
Playing this diaper game with your guests will definitely benefit you. It will save you a lot of diaper money, especially for those first-time baby moms. You will need all the possible help you can get. Click here to learn more about how the diaper raffle game works.
If you are planning to play this game, just be sure to ask for any size of diapers for your baby. It might be better to ask for a little bigger size since babies grow up pretty fast. You can also get this football printable diaper raffle sign and tickets by clicking here.
5. Football Bingo Game
If you don't want to print out the above games then you can give this football-style Bingo game a try. It looks pretty cute and it looks exactly like a onesie. This comes with a set of 18. That means you can have 18 players to play this Bingo game. The price for this game is pretty decent.
The creator called this item "Baby Bodysuit" and its measurement is 5.25" Wide x 6.75" Tall. This looks pretty big to me. These are printed on double-sided cardstock paper, so they should pretty sturdy. To learn more about how to play this Bingo game and to see the back of the baby bodysuit click the below big image.

Football Baby Shower Favors
I think adding some baby shower party favors is a must for the party. You don't want your guests going back home empty-handed. So far I have two favor suggestions for you below. You can pick either one or doing both will be fine for the party.
Big Dot of Happiness
You can fill these favor boxes with your choice of favorite candies. The measurement for each box is 3.5″ in length, 3.5″ in width, and 7″ in height.
It comes with 12 favor boxes. If you need more than that then you need to purchase more in quantity. It does require you to assemble it because it comes flat. It does come with assembly instructions. I guess this is still considered a little DIY.  It is a nice little football-design box.
DIY Football Baby Shower Chip Bags
If you are bored or have spare time then you can make your own DIY football baby shower chip bag favors. To learn how to make them click here to find out.
If you learn to know how to make these baby shower chip bags then you will save some time in making birthday chip bags also. I am pretty sure it will be handy for creating birthday chip bags for your baby's first, second, and later birthday parties.
You can customize these chip bags if you are making them yourself. Your baby will love them if you create a design your kid loves.
"IT'S A BOY" Football Announcement
This is nice football to have and to use to announce to everyone that you are having a baby boy. The football is about 5 inches wide. What I like the most about this football is that you can actually write information about your baby boy on it, like Name, Date, Weight, Time, Length, and Place.
With this information written on the football then you don't need to dig through looking for your baby's birth certificate. Trust me you won't be able to remember all that information when each passing year your baby is getting older.
I am serious, I can only remember my boys' names and birthdays. The rest is gone like the wind. LOL…………
Besides, this is a good little item for a memento.
Decorations
Decorating the party place is necessary if you want it to look more like you are having a party. It will also bring up your guests' party spirit. You certainly don't want your party place looking plain and dull. Below are some football-themed ideas I suggest you get to spice up your party decorations.
With this Welcome Baby customized name banner, you can personalize your baby's name or last name. If you are personalizing it with the baby's name then you will be revealing your baby's gender. So if you are planning to do a gender reveal event then I suggest going with the baby's last name with this banner.
For each pennant, the measurement is about 8.5 inches high, and the width is 5.5 inches. This also comes with a 24-foot long and 3/8-inch wide ribbon to hold the banner together.
By the way, you can also get one without customing any text. The banner will just say "Welcome Baby". You can check out what it looks like by clicking here. Personally, I like the one that you can customize with the baby's name or last name. It adds a little closeness to your baby along with your guests.
101 Pcs Football Balloons
Adding some balloons to the party place looks even better with the decorations. This party balloons set comes in several different matching football colors. It looks really nice.
The set comes with 101 balloons. It should be plenty enough for your baby shower party. Click below on the big image to read more about this balloon set.
Food
To be honest I have spent quite some time searching football themed food that has instructions that teach you how to make it. There are a lot of football themed foods but they don't show you how to make them. I think that's not helpful so I decided not to show it on my blog.
Cupcakes
Mm, yummy delicious touchdown-looking football cupcakes for a baby shower party. As you can see in the below image you can make three different styles of football cupcakes. Seriously, who doesn't like eating cupcakes? As for me, I prefer vanilla over chocolate.
In this case, the chocolate kind is a better choice to match the football theme. Click here to learn how to make it. You have to scroll all the way down the page to get the recipe and instructions on how to make it.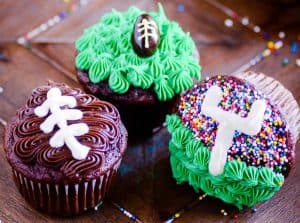 Cake
Here is a football-shaped cake that you can make for your party. The name for this cake called "Chocolate Fudge Football Cake". Click here to read the instructions on how to make it.
You may also have to scroll almost to the end of the page to read the instructions. There is also an option for you to print instructions and ingredients out from your printer. There are other related football party ideas that you might want to give a try.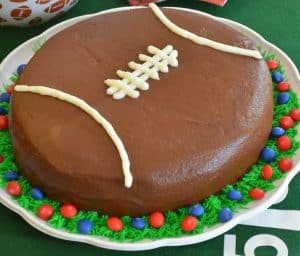 Football Themed Dirt Cups
This looks super yummy to me, so I want to share this with you. Click the below play button to watch how it's done. You can also click the below image to take you to Pinterest and there is a link you can click to get the whole recipe.
More Football Things To Consider
Here are three more football themed things you might want to consider getting. Some mint candies, games, and a decoration banner.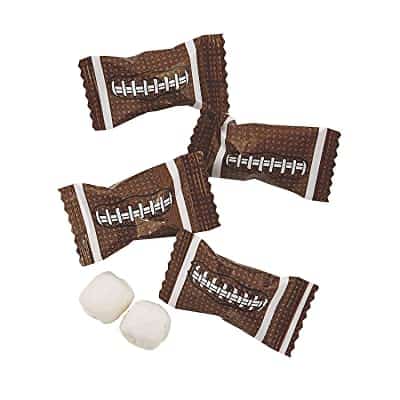 Football Butter mint Candy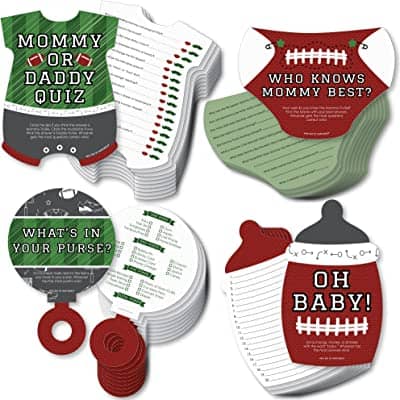 Football – 4 Baby Shower Games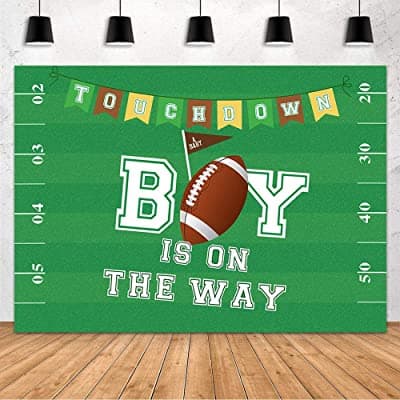 Football Baby Shower Banner