How To Make Mini Diaper Baby Shower Favors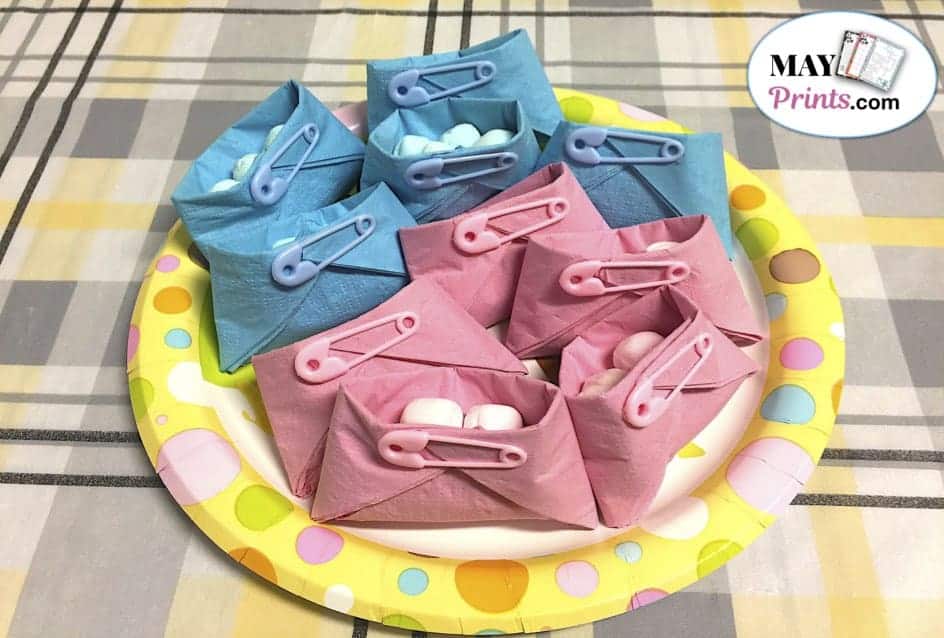 On this post I will be showing you how to make mini diaper baby shower favors. This is super easy to make and it looks pretty nice and cute at the same time. It doesn't need that many items to make it happen.
By the way, if you need baby shower games for your guests to play, then click here to check them out.
Items you will need:
I much prefer to use a fake plastic pin and a glue gun to make this diaper baby shower party favor. I think it looks a lot prettier than using a real pin.
I have tried to use a real pin to connect the napkin together but the folded layers of napkin are too thick to pin it together. So I decided to use a fake plastic pin and a glue gun to glue them together.
If you have to use a real pin I suggest you to cut the napkin in half. That way it will make pinning the folded napkin much easier and you will be able to save more of the napkins.
Here is a picture of what it looks like below when using a real pin to pin it together. Just to let you know I have cut the napkin in half to make it.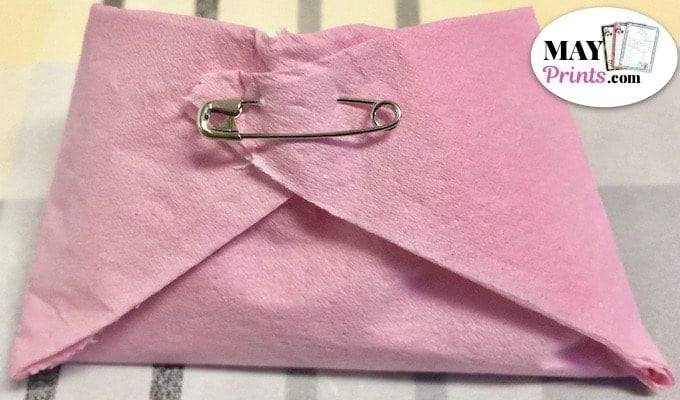 The size I used for the the pin is 00 – 3/4″ (19mm) x 7/8″ (22mm) 80 pieces by Dritz with assorted nickel-plated brass safety pins. I got this from Walmart. You might be able to find it at walmart.com. The item number is 13915.
How To Make Mini Diaper Baby Shower Favors Video?
You may want to watch this video to see how it is done. The video is only around 5 minutes long. Seriously, it is not that hard.
All you need to do is fold the napkin and glue it all together. And of course, add your favorite candy in the finished cute looking diaper.
Instructions:
Here are the steps to make this diaper. If you are still having trouble making it then I suggest you to watch the above video. I also took some pictures to reinforce your understanding.
Step 1 and 2 – Put the napkin in the center into a diamond shape and fold it in half to make it look like a triangle shape.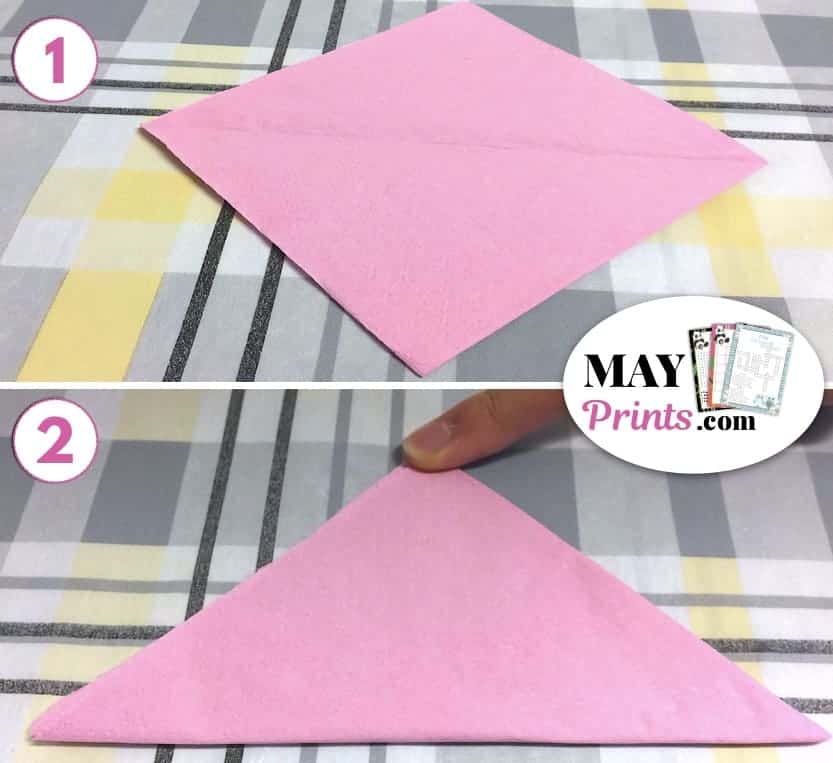 Step 3 and 4 – Then flip the triangle shaped napkin over and fold the bottom part to match the top part of the napkin. You don't want to fold the bottom part more or less than the size of the napkin.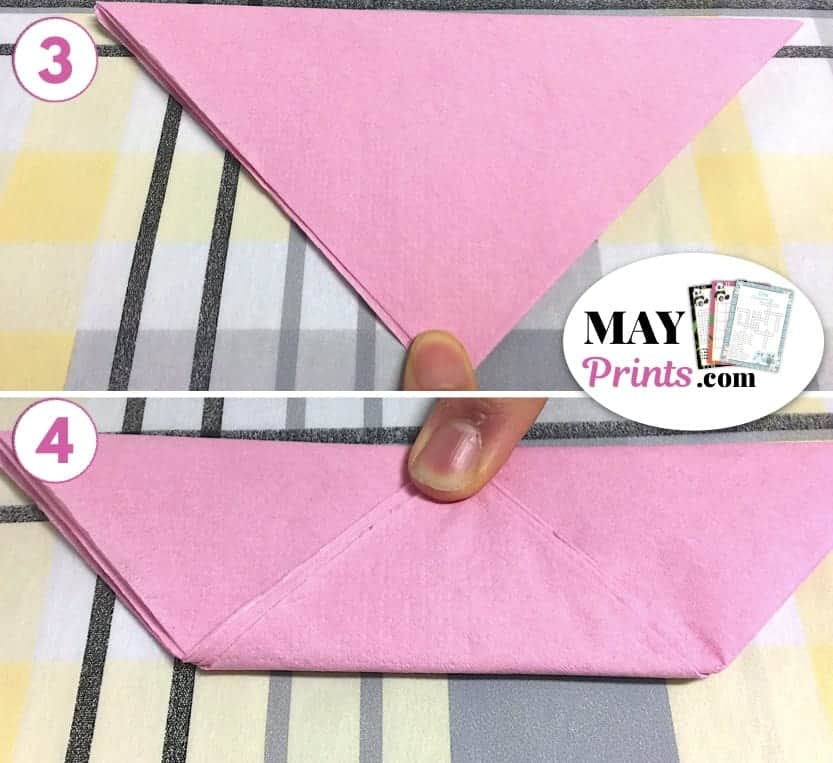 Step 5 and 6 – Next use some glue to stick those two parts from the edge of the napkin together. This makes it easy to put in and take out the candies from the finished diaper. Then, fold the left side.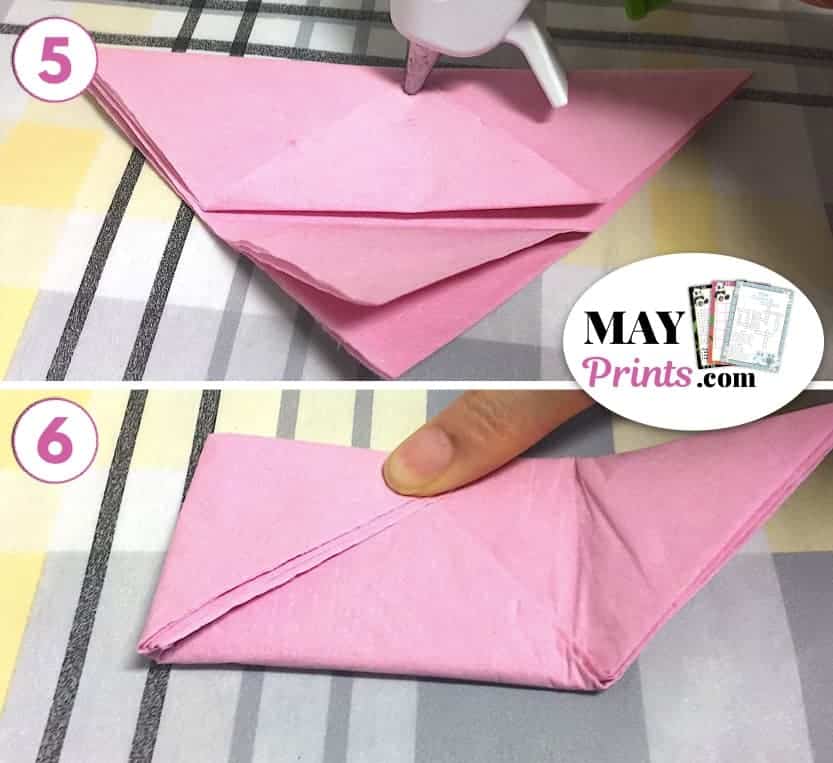 Step 7 and 8 – Put a little glue on top of the part you just folded. Fold the right side and press it down to stick them together where you just placed the glue.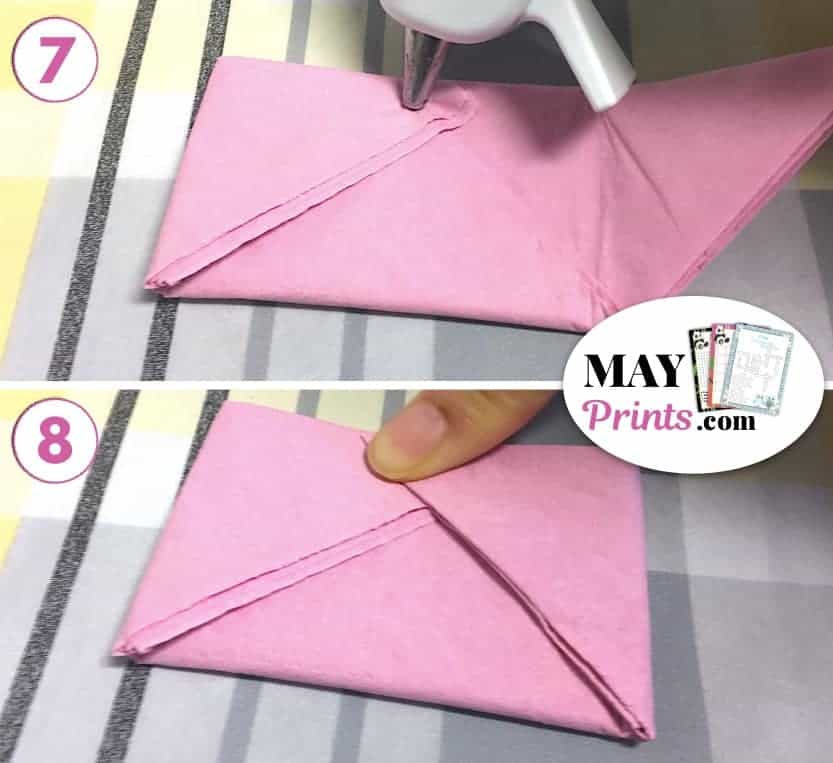 Step 9 and 10 – Next we need to glue the pink plastic pin on. You can either put glue on the plastic pin or on the napkin to get the job done. Place your favorite candy or mints into the finished cute mini diaper for the final touch and you are done. Be sure to not over fill with candies otherwise they will fall out of the diaper. I was using butter mints so I can only put about 5 to 6 mints in it.
Thanks for reading. If this article is helpful to you please share it. I hope you have fun making this mini diaper.
You might be interested in learning how to make Hershey bar baby shower favors. This one is a lot more adorable.